Bundle Hunt – a special bundle for designer
Just find out this bundle today through my twitter , it seem like this Bundle Hunt target on the freelance designer,compare to macheist bundle or the recently votebundle , other than mac applications, it includes different kind of resource for designer, example smash magazine e-book, 5 WordPress theme, web hosting account , project management web service and creative ( icons , vector, photos etc ).
As usual this kind of bundle will be a great saving for you , you can get this bundle for $49 only , please take note that the total value for this bundle is around $1400. The bundle sales will be end on 16 of August , I wonder will there be any more freebie throw in at the later stage ? it seem like a tradition for these bundle sales, it might be inspired by Steve Job's famous "one more thing" ?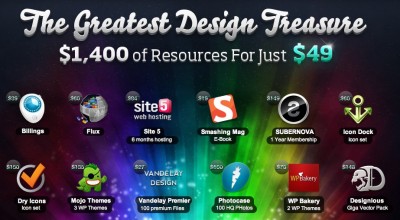 After mac applications bundle , web services bundle, finally we have some special bundle for special group of interest , maybe productivity bundle , web development bundle in the future? As a developer myself ( not designer) , I m interested on billings , flux , Smash Magazine E Book , Subernova and Mojo Themes , What about you ? if you are not a designer , does this bundle impress you ?