It's time to get Media Temple's DV server
You might ask why ? because now you can get a 512mb DV for $33.33 monthly.
Firstly , Starting from 4th June , all Media Temple DV series server will be getting extra RAM , to be accurate the users are getting x2 of what they use to have, which mean the entry level DV Base is not longer 256MB RAM , it will be 512MB Ram by default. This is a good news and it help Media Temple DV server to stay competitive.
Second , if you don't know there are promo code for both GS and DV series of product , by using "retailmenot" this will grant you 20% discount.
Third, if you getting any DV server and pay for one year , you only need to spend 10 month price, the last 2 month will be free.
A DV base server which have 512mb Ram original cost you $50 monthly, now if you pay it one shot for 1 year ($500 ) + using the promo code for getting 20% discount ($400 ) divide by 12 month, the dv will only cost you $33.33 monthly only, which is a very good deal !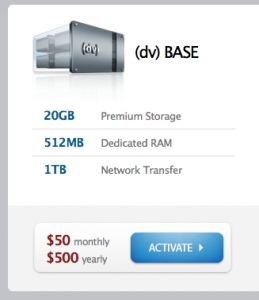 One thing to take note is these are unmanaged server/vps , you might need to get your hand dirty on system admin , but there are quite complete knowledgebase for you. I think this should be a good upgrade for those GS account user ?