2016 Year In Review
It's kind of late to write a 2016 review, I been losing momentum to write anything for the past few month. Finally today I have some time to sit down and type out this post.
Checking on my 2016 Resolution, I felt quite regret for a year past and didn't complete much.
Work / Product / Life Balance – I did pretty well for Work Life balance, I work lesser during weekend nowadays and spends time with my family. But nothing has been done on the product side.
Stay Healthy – Have enough sleep, cut down 3-in-1 coffee a lot and went for GYM some time, but weight still the main issue.
Build Habits – I think this last for four months and I totally lost track.
Build Something – I thought building product is easy but I totally failure last year, I did a few concept little thing and left it.
Convert from freelance to product owner – Nope, long way to go.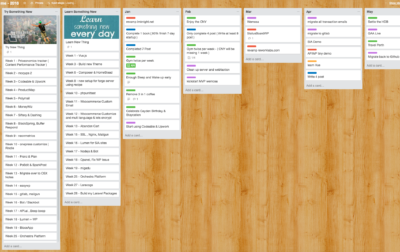 I still using Trello to track my resolutions and relevant monthly events and it works well, but I don't have much patient to build up habits.
So these are the memorable things for 2016.
Family trip to Perth during May, my son first oversea trip.
Family trip to HK during Oct.
Kuantan Biz Trip during June, my first local biz trip.
Melaka Trip during July.
Staycation on Jan and Oct.
Bought a new car because our COE is ending soon.
My son starts going to play group.
My son first performance on stage.
Back to World Of Warcraft for three months.
A new Family Member confirmed.
Meetup with a bunch of primary school friends.
A Family Member passes away.
Kickstart an e-commerce store.