Oh Life ! your personal journal
How often you starting a blog , try to note down your daily life but give up after a while ? Oh Life is trying to fix this by 2 way , a simple way to blog and a daily routine alert.
Oh Life is a new personal journal web service that will send you an email alert daily, the email is not just a reminder , it also will include some of your previous content.Example what you write yesterday , last week , past month … .Reply the email from Oh Life will become a new post on your account, simple and straight forward , remind me of Posterous.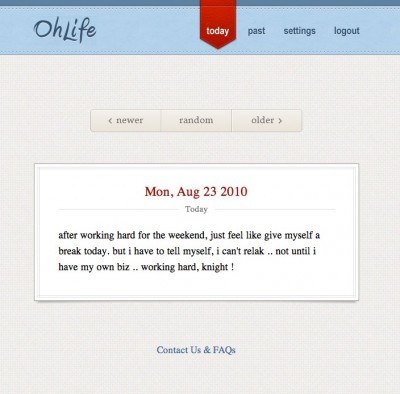 I been using this service for the past few week ,I will say it did hit some of the sweet spot of current web trends, getting the user to constant respond to one thing daily, this might get the user addicted on the service, another thing is this journal is totally private for yourself only , I wonder is how to monetize this ?
3ebdce51429441478062b394adbad21c