Google SpreadSheet is here
I m lucky because been choose for the limit test of google spreadsheet. i m not a heavy spreadsheet user thats why i can't really tell how much different what Google spreadsheet can do compare to the spreadsheet in our PC but most of the basic feature which i need it , its there .
as usual, lots of ajax its appear in this product, personally i think it still take quite a bit of time to load, don't forget its only show 100 Rows for now , imagine if it open up like normal spreadsheet for 65536 row …
one of the challenging part its, you allow to download the whole spreadsheet either as html or xls, no wonder some of people think that Google is trying to challenge M$ on office area.
one of the most satisfy result, upload one of the spreadsheet and it remain the same format in google spreadsheet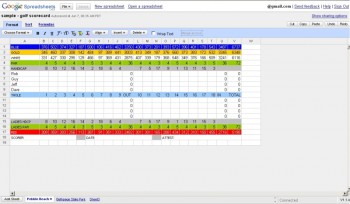 what other say ?
iRows : We had an outage yesterday. Following an announcement of Google of their own web spreadsheet, and false rumors that they purchased iRows, we got flooded with traffic, more than we could handle
ZohoSheet : google has launched its spreadsheets. The attention triggered by this annoucement has increased our zoho sheet traffic and registrations (with google restricting to limited signup). Thank you Google
EditGrid : this is the spreadsheet comparison matrix
Num Sum : ….