The New Foursquare website have food recommendation.
The Foursquare website use to be quite boring, you can't see much info on it and comparing to the mobile apps, the web version doesn't really provide much value. You can't check in with the web version, which might be the reason there are not much feature implement for the web version.
But the changes is coming, it might be Foursquare understand that just Checkin and Badge is not enough, since they almost owns the location-based service, they can do a lot more with the location data they have.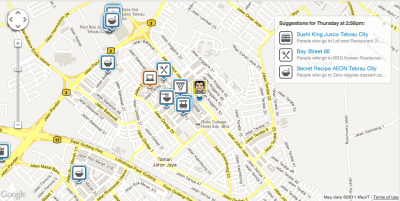 The new Foursquare website was launch yesterday , it will first ask for geo location permission, in order to find out your current location , next it will show your current location maps with the near by venue, at the same time base on the current time , it will show some of the venue recommendation.
Current I think it only can recommend place to eat , but I guess there are more recommendation can be done , example during this time, which location have a lot of check in and might be having some promo running ? Since Groupon is partner with Foursquare, this might be useful to showcase some of deal too, like during lunch hour, it can show some dessert Groupon deal.
Let's see what the next recommendation will Foursquare add.