Freelancer Report November
I m late again , just slightly one day earlier than last month to come out with this post. I been extreme busy for the whole November and early December for 2 reasons , rushing project and wedding event.I went to Malacca, Ipoh, Alor Setar for wedding for the past few week , I help to organize the first WordCamp Singapore and I m try to closing some of the projects.
Income – $300 for Nov , only manage to get the monthly maintainance , the rest should be collected on December.
Freelance – finishing the 2 FuelCMS based project, current one is completed, should be kick in the maintainance period, the other one should be able to start the last module soon. I have a add-hoc job coming during mid of November, I guess I did it good enough and it bring me a bigger project for next year.
Project – the travel app was on hold after some research that seem like travel app doesn't really bring in much income, planning for one mobile web project which might converted into an iOS app.
Learn – is a poor learning month, the only knowledge that I gain is understand more about Fuelcms.
Blog – taking down the CDN to compare and the Adsense income seem like dropping but can't confirm is because of the CDN or lack of post for last month.
Startup – Looking at my Day One journal will be quite clear , compare to Oct , I got no chance or no ideas to note down during November and starting of December.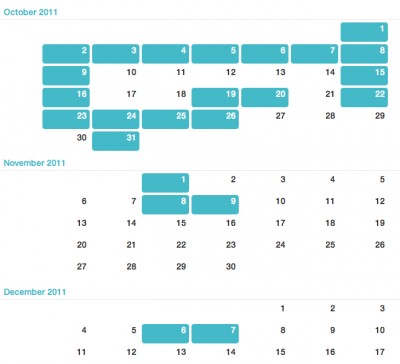 I guess having a journal app for this really help, it remind me how I wasted my month.