Cancel my wow subscription
Yeah, finally I have just pause my subscription from World of Warcraft latest expansion Warlords of Draenor, so that I can more focus on my work and get rid of this little distraction.
I been a long time "on & off" WOW player , I subscribe for few month and stop for few month , the last hardcore period I can remember is before I start to become a freelancer , I been very casual player after become a freelancer since I generate income by the time I invested on work , so can't really spend too much time on entertainment like this.
So why did I join back recently ? that's because end of last year , the latest expansion "Warlords of Draenor" is released , as an old-time WOW player, I really wish to join in and see what has been change, I even hold to start the game until December because I going to have a short break in December. It's been an enjoyable journey for December , getting my character level up to cap and experience tons of new things that intro in this expansion, but after the short break, back to work, it become a burden to continue having this subscription yet can't put in more effort and time on it.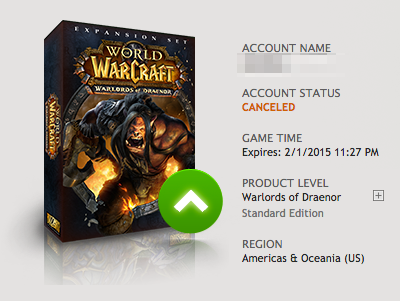 Fast forward to today , lots of work and life event has been filling for my past few week , what I did in WOW is only daily garrision work , I guess is time to put it on a pause and focus on my work and real life, It's been a good short 2 month time with WOW , I miss the old day , but for sure I can't go back to play like the old day, maybe I will come back to you at the next December short break ?