Envato WordPress Pack Bundle
As a big fan of Envato , I would like to announce that they just release an interesting WordPress Pack Bundle , which combine of items from both of their marketplace , including Themeforest Marketplace which selling lots of theme and template and CodeCanyon Marketplace which selling php & javascript source code.
So what are goodies that included in this WordPress Pack Bundle ?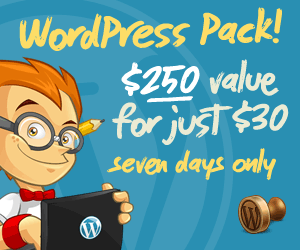 the total value of all these goodies will be $250 but now this bundle will be selling for $30 only , this bundle will be expiring in 6 days, grab it now before is too late!
disclaimer : if you click on the links for my blog and buying the bundle will actually help me earn some referral $$.