WordPress Plugins – Simple Share Buttons Adder
Recently I have a WordPress project , when I about to complete it , there is a request to add social media sharing buttons on the single content page, I was thinking this is a easy task there are so many social media sharing plugin out there, but the only catch is it need to be support Tumblr sharing. It's a bit rare that the client request for Tumblr sharing , most of the common request is Facebook and Twitter , some time Google+.
So I thought this should be an easy task and started my plugin searching journey, after spending few hour to search, download and testing , most of the plugin cannot make it.
These are some of the reasons :
Plugins which is part of big site like A

ddthis

/ S

hareaholic

require you to register an account first before you can use the plugin
Plugins which is very complex to use.
Plugins which is not working.
Plugins without T

umblr

sharing.
Plugins with ugly icons.
Plugins with poor setting page.

lucky after few hours trial and error, I found this plugin call Simple Share Buttons Adder , some of the features are
easy to set up and use
the default icons are good and you are allowed to replace with your own set of icons.
there are other setting for you to tweak for example shall it display the share count,the size of the button etc.
it support T

umblr

quite lightweight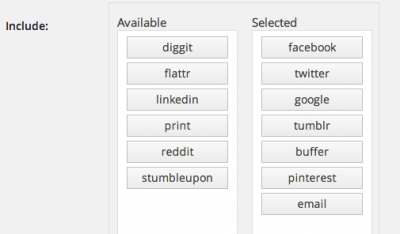 these are all the social media site that support and it support email and print too.
Highly recommend if you looking for a simple and easy solution to make your site easier for sharing among social media, I have replace my old plugin on this site too.