Check your blog broken link
If you blog since few year ago, i m sure that there will be some link broken after all these year, you might think that broken link does't affect anything , but the fact is broken link did affect SEO of a blog
Quote from Top Ten SEO Myths
A simple thing like fixing broken links can contribute to elevating your listings. It's one of the most overlooked search engine tweaks. Search engines will not continue to spider a site when it runs into a number of broken links.
If you are using wordpress, broken link checker will be a useful plugin that help you to find out all the broken links in your blog. It will search through post by post and test link by link which seem like causing your backend slower, but so far i find it ok don't really affect my blogging process.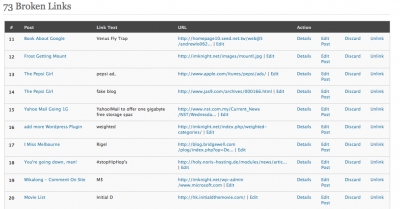 after you activate the plugin, it will start checking all the links, these are the links that found on my blog, i can choose to ignore it / unlink it or change the url, if these link are pending without action, on the blog post that contain this link, will have additional css to cross the link, this is to inform the rest that the links are not working.
Use this plugin and start cleaning up your blog for better seo performance.