Trying out Adobe Browserlab
Just now there are quite a few people talking about adobe browserlab in my twitter stream, that's why i register an account and give it a try.
Adobe Browserlab is just like one of developer's favourite site – browsershots , it will show you the image of how the web site looks like under different browser on different OS, this is something important for web designer when design something cross browser.
Currently these are the provided browser + OS combination , you can create your own set for different purpose.

Too bad there are only 1up and 2up view only, but the onion view is something interesting which combine both view and let see you the difference.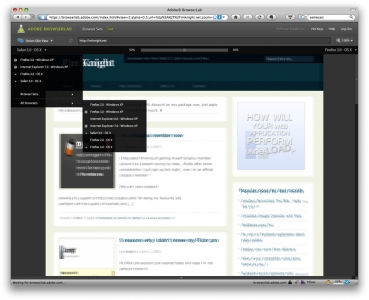 I believe the whole service still beta testing, because the FF3 on windows and IE on windows has been generate for more then 20 min, but still no image to display, anyway this is quite interesting product , it will be better if the rendering can be faster.