I m a tutsplus member now
I blog about thinking of getting myself tutsplus member account as a present during my bday , finally after some consideration i just sign up last night , now i m an official tutsplus member !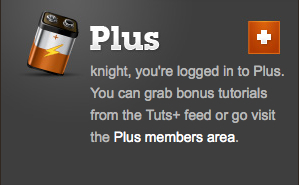 Why am i join tutsplus?
showing my support to http://net.tutsplus.com/ for being my favourite site.
confident with the quality of tutorials and able to learn something in more details.
able to access multiple site resource, currently i m interest on psdtutsplus and nettutsplus resources.
when you pay for tutorials , this might motivate yourself to learn.
So i have bought the quaterly membership , the first 3 month most likely will be the warm up period and see is this going to help me.I have set some of the goal on the usageof this site, if i can meet my goal then i will convert into yearly membership. Basically i wish to be able to complete 2 tutorials and come out something new every month for the continuous 3 month.
If you thinking to join the tutsplus member too , you can visit and sign up by clicking the banner below, which will help me to earn some extra income.