Soundbuzz & Firefox
It happen that i accidently visit this site – soundbuzz , if i recall correctly it seem like is a local startup biz which selling MP3 Online. Today it seem like their biz is all over the world.
But it show me this page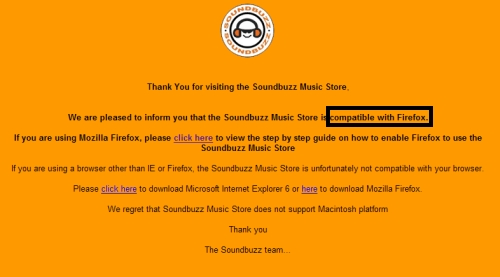 Ok, it seem like the site not so compatible with firefox, else i should see the proper page in stead of this, but the page mention that is compatible with firefox , hmmmm … if is cimpatible why i still need to follow the step by step guide ? i was thinking maybe it need to change some configuration of firefox, so i click on the link – IE Tab
Oh ! its IE Tab, firefox user should know about this plugin, you can use it to render the page by IE engine, just like what how it claim on their own web site – embeds Internet Explorer in a Mozilla/Firefox tab
Sigh! to all the soundbuzz's CTO/developer/programmer, you don't call a site is compatible with firefox when you need a plugin like that to run your site, i think a better way should be it can be run under firefox by plugin.
p/s they don't support Mac too, if is compatible with firefox, i should be able to run on firefox with Mac or i should be able to run on firefox with Ubuntu … hiak hiak