Will you Switch to Posterous?
Posterous was launching a switching initiative last week, which trying to get users switch to Posterous from different services by easy migration tools.There are different opinions about these aggressive "switching initiative", some say Posterous is in danger to launch a massive campaign like this and some say kudos to these aggressive campaign.
It's been 7 day since the switching started , so far there are 4 service importer launched , although Posterous did promise an importer per day , but it seem like a bit difficult to keep up.Another interesting thing that i find out is seem like there are more respond for Tumblr importer base on the number of Facebook Likes, Retweet and comments.
So how easy are these importer ? I did a test on my Tumblr blog , what I need to do is just supply my email and my Tumblr blog address and the Tumblr to Posterous importer will do the rest of work, once the importing ready , there will be an email tell you. All the imported Post will be categorize as imported and you can choose to merge with your existing Posterous Blog or import to a new standalone blog.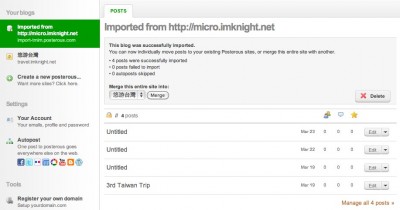 So will you switch to Posterous ? if you are , why ?