Wallnote – Notes and Todo list on your desktop
Recently i been looking for notes and todo list service again.
Netvibes is good for start up page, but i don't really like the their notes and todo list feature, thats why it remain as my starting portal
Palm Desktop is for my Palm TX, its portable but is not online, its suitable for me to view, i still hate to do input on Palm.
Testing before rememberthemilk ( might revisit this one ) and tadalist not my cup of tea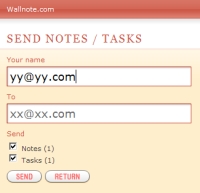 then i accidently saw Wallnote , it seem like meet some of my requirement, its a web base service , it allow to use on desktop ( by using active desktop ) , have some nice color combination , user friendly GUI and you can even send some of your notes and todo to other user for the social purpose
Other then these feature , Wallnote seem getting quite a lot of attention because Solutionwatch is actually mention out of the top 5 todo list, Wallnote is the one he feel comfortable to use it, but at the end i think i still give up on it
its using Site5 ( share hosting i think ) , if you happen that visit webhostingtalk , you will found lots of complain about Site5 , hosting my todo and notes there ? no thx
its too online dependent already, if you not online, your active desktop can't show your todo and notes ( which i understand how active desktop work, but can't just build it as able to syn with it when get back online ? )
the ajax respone is slightly slow, it might be related to the first issue
maybe rss feature will be a plus ?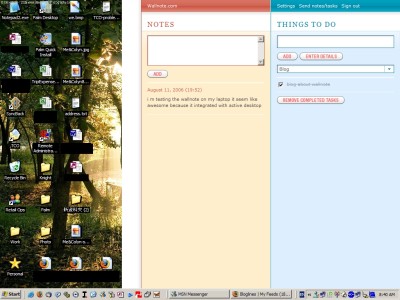 p/s it might be a bit unfair if compare the offline feature with other online todo list, but my point is since you got this feature , i will expect something on this feature and i give it a miss not because this service sux, its just that it doesn't meet my need.