Jaiku Invite is unlimited now
I think begining of last weekend Jaiku was down for a few day and the main reason is they are moving to google app engine , which mean they will be integrate into google infrastructure.
Now they are back online and the first shot will be no more limitation on invitation, i believe before this , each user is having 10 invitation only. It seem like Jaiku will be back to active mode again.
I believe a lot of people might think , is it too late ? twitter is almost the mainstream , plurk is represent the new wave and there is open source version – identi.ca , it seem like Jaiku have a tough war to fight.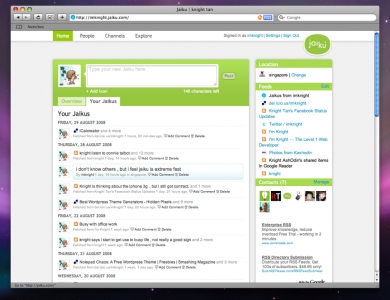 Currently i m using Jaiku as a lifestream service – my jaiku , too bad most of my friend is either on twitter or plurk, lets see what surprize Jaiku can show us. Do leave a comment here, if you need a Jaiku invitation.