Treo 750V & pfingo
You might heard about pfingo , one of the latest mobile service that release by starhub. Although i did register a beta account for this service, but it took me sometime to make it work on my phone. The Faq/Support don't really have much detail how to get your phone ready for this service.
For Treo 750v User , i found this blog that mention about this midlet will work on Treo , after i install this midlet and pfingo is up and running, since Treo 750v not really a WIFI phone, i can't test the VOIP service – Pfingo talk. ( i know by some external card , Treo 750v can go WIFI too), pfingo Mail most interesting part is the push mail service, it seem like it allow to push mail. pfingo active is the main service that run in your mobile, which consist of all the email service, rss reader service etc.
I would say this might be useful for those non-ppc (pocket pc) phone , as a pocket pc phone user, i would say most of the service meaningless to me ( ya the push mail service still looks like a plus to me) , i can use outlook to sync the email, contact to my phone, by some other application help, i can read rss , make VOIP call too.
thats why it only run in my phone for 1 week only … it might seem like a good idea, but not really suitable for power user.Even for nokia user themself, i believe Widsets might be a better idea. User just put in which service related widsets they require.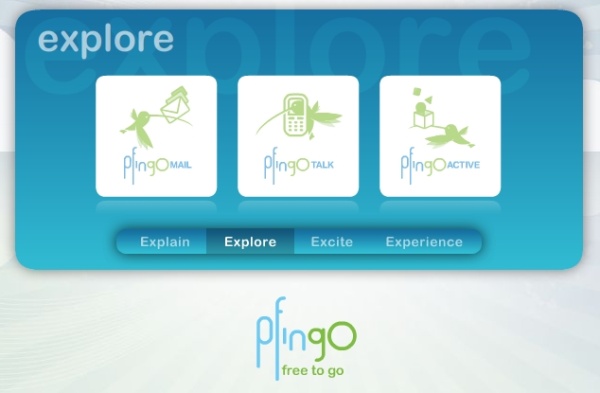 p/s the support for this also terrible, i submit a support ticket regarding some feedburner feed was return error, it took them 6 day to reply "we will look into incorporating this into the next release." ….