Buxfer Membership Plan Release
I think the membership feature should be just realease, since i login buxfer everyday to fill my expense. Yes after a few month i m still using buxfer this service to keep track , althought it have some problem before , but so far nothing big happen after that incident.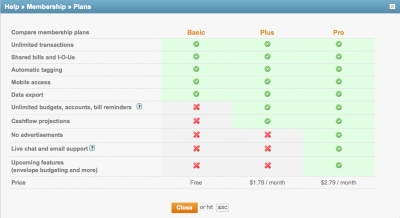 Buxfer give me a plus membership free , i think maybe all beta user will get it free ? but one funny thing is for Plus Membership which cost $1.79 every month will serve with ads, hmmmm this is the first time i heard about paid membership with ads, maybe this sepecial Plus Member is for us beta user, which wish to have some advantage but might not become a paid member.
Will i become a member ? i m struggle on this, so far buxfer meet my need, it allow me to track my expense, but it doesn't sync with any application, i got cha ching from my machiest bundle, i think i should start sync this 2 before buxfer wipe the plus membership or i can't stand the ads anymore.