Post your flickr photo to twitter by flickr2twitter
There are quite a few services that allow you to share photo through twitter , one of the famous service will be Twitpic , but all these services are going to have some major challenge , because flickr has launch flickr2twitter service, which allow flickr user to post their photo to twitter, just like how they post it to their blog.
So how does flickr2twitter work ? first add your twitter account on the usual blogs configuration page.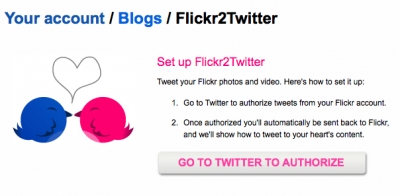 authenticate your twitter account through oauth, this will allow flickr to post photo to your twitter account. Just browse through your photo as usual, when you decide to post one particular photo, just select blog this.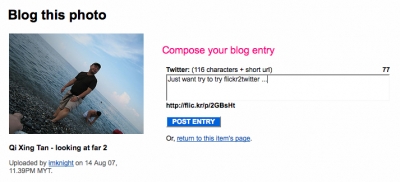 you only allow to inset 116 char, because it reserve some space for the short url of the photo, the shorten url is using flic.kr domain, it seem like a special shorten url for flickr only.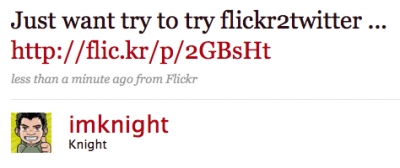 that's it, now i can see the tweets with the photo url showing on my twitter account, simple and straightforward. Simple interface + shorten url + big fan base , that's why i say the rest of twitter photo sharing service is going to facing some problem, i wonder will there be stat to read on the flickr shorten url ?