Instapaper Pro Promo
I just bought Instapaper Pro after using Instapaper free for such a long time. I blog about instapaper as a "save now read later" tool last year and it also become one of my top 5 ipod touch applications this year.
These are my reasons for getting the Instapaper Pro
Show appreciation to the developer.
Enjoy the pro feature like Black-background text view and Remembers your position ( this 2 are my favourite ).
Discount – the original price is $9.99.
Instapaper pro 2.0 will be free upgrade.
It seem like it working on the correct direction, some social feature added on 2.0 release.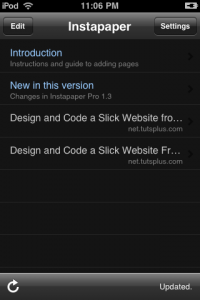 Currently Instapaper Pro is on sale at $4.99 @ apple app store , which is quite a good buy, get it now before the 2.0 approve by apple.