A more secure Twitter
I was at the airport last week , while waiting for the boarding time , I just turn on my laptop and doing some surfing , understand that the power of firesheep , I carefully visit site with the secure url , meaning make sure I visit the site starting by HTTPS .
Gmail – checked , it use https by default.
Facebook – checked , it redirect you and use https too.
Twitter – ….
I not sure why but I can't surf the twitter with https properly , it might be my browser problem , or the connection problem , in the end I just give up to use the web-based twitter.
Today Twitter announced that they added the setting in your profile page , this will force to use https by default when you login through the browser.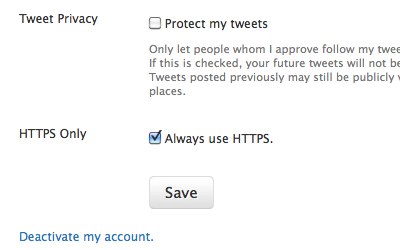 How to turn on this ? just go to Settings -> Account and you will be able to see the last option is for HTTPS Only , checked it and save. Do take note that this does not affect 3rd party twitter client, this might be one of the reason for Don't Try To Compete With Us On Clients .