Goodbye Twitter Little Star
Twitter Little Star is one of my first official project , I launch it during 2009 to compete with some of the twitter application site out there ,the 2 bigger player during that time are Twitdom and TwtBase .
My initial idea is build an apps database with mashup , since during that time most of apps db is just boring, they just include title, description and image that's all. So I added things like delicious bookmark count , what people talking about this application on twitter , trying to make it looks like more interaction and having a twitter account for site to board cast on the new added application.
What I did seem quite useful for the starting and the site manage to get on Killerstartup and getting some traffic, but slowly the site getting bored and daily update the database manually is quite troublesome, so I just leave the site at the corner and visit once in a while. I was thinking to bring it back again and added more thing last year , that why I renew it but another year has pass , nothing has done.
Just checking both Twitdom and TwtBase traffic on compete and it's looks like big diff compare to the old day , I guess now day people all moving to Oneforty already, but even Oneforty has switch focus from Twitter apps store to social apps store . I guess the Twitter apps store niche effect is finish.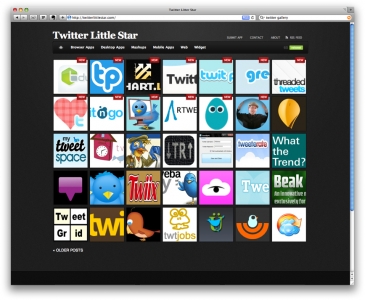 The renewal date is coming soon and I plan to not renewing any more, some time something you need to let go, I choose to close the site today.
Twitter Little Star Mar 2009 – 17 Mar 2011