My Sitex Hoot
I m on leave last friday just for this event – Sitex 2008, because i know there are quite a few thing i need to buy which i don't want to squeeze in weekend crowd. These are what i hoot on sitex 2008 @ expo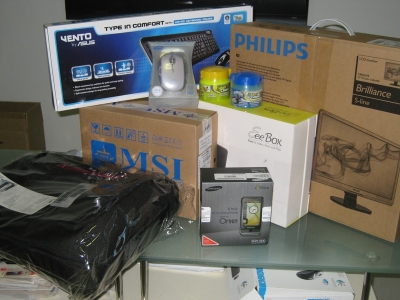 Omnia, finally my gal manage to get this phone at $488, she miss the xmas road show for $438 but lucky she didn't miss this one, retail price is $599 with 2 year plan
Philips 19 inch Wide screen LCD for my gal, original she plan to get it for her mum , but i think now she going to use it and pass her old one 17 inch to her mum, any way Philips is having 3 pixel warranty, within 3 year on site support, the LCD cost below $200.
EEEBox – bought it for my parent to use, you won't believe how many thing it squeeze in this tiny little box, hardware part which impress me is having wireless support, software part will be the splashtop feature , the slightly turn off will be using DVI port for monitor ( because i just pass my old 19inch CRT to my mum , CRT don't have DVI port ), another plus point is free mouse and keyboard.
MSI Wind Black , i been struggle to choose a netbook for quite some time, finally i m settle down with MSI Wind – $729 for 6 cell , 2GB , 10 inch netbook , i think it's quite a good deal
Belkin Slim Backpack – i m a bag lover and this baby is about $30 off from the retail price which i think quite worth it.
Cyber Clean – $15 for 4 which is quite cheap, thanks for @acidz intro , this little help me clean quite a lot of dirt from my keyboard.
p/s i m glad that i bought MSI Wind, my original choice – Lenovo S10 has drop from $799 to $699 during weekend, where the MSI Wind i bought only drop from $729 to $699, if i pay $100 more for 1 day different , i will be quite regret for my choice.