I m a Titanium Certified Application Developer now
I just got the certification few days ago through the online exam, thanks for Appcelerator having a promo on July, there will be no charge for taking the exam. I only recall the promo on the last few day of July, although the preparation period is short, but I m lucky to pass the exam.
If you need some tips for this TCAD exam , go through the lab course & videos , follow and try up things that mention in the videos because not everything in the video will be part of the lab course.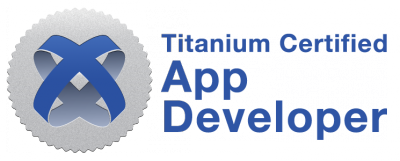 I have this love-hate relationship with Appcelerator, I subscribe as indie developer last year with a few hundred-dollar, but due to a lots of reason, I didn't manage to use it on any project. Currently I have a few ideas for mobile apps, hopefully by end of this year, I can sell it some on the App store to cover my license fee.
My friend was asking me in a layman term , is this certification bringing any advantage to me ? I think in short-term I won't see any advantage on this but after I have some mobile portfolio , I think it will help. Hopefully by end of this year, I will be getting the TCMD ( Titanium Certified Mobile Developer ) certification.