Reeder For Mac
I been using Reeder on my iPad to read my Google Reader's feed and it is a great application for feed reading. Today Reeder for Mac is releasing their so call draft 1 version (download it here ) .
I must say it has been long time since I love a desktop RSS reader, but Reeder bring the wonderful iPad experience to desktop with more customization, I afraid I going to leave Feedly for Reeder.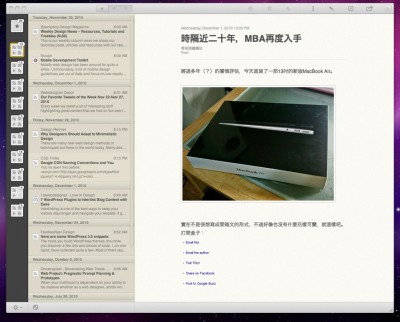 If I need to highlight one of the important feature that I like ? that will be displaying star-ed link grouping by site, this is more for personal habit, I prefer to check out my start-ed link by site. If you still looking for a perfect RSS reader on mac , give Reeder for mac a try today.