WordPress Advent Started
After the Black Friday and Cyber Monday sales , WPAdvert is started. I m totally forget to blog about WPAdvert yesterday, if you looking for some great deal for a new WordPress Theme, don't miss out the WPAdvert.

WPAdvent is about every day starting from 1st Dec, for 25 days, there will be a new WordPress special offer. It seem like this so call Advent Calendar concept has been widely apply for different online activity, example there is Gameloft Advent Calendar for iPhone games, web design and development articles and tutorials for advent and WP Engineer's Advent Calendar 24 days WordPress tips and trick each day.
WPAdvent is actually done by Ben Gillbanks, the owner of Binary Moon , one of the famous WordPress geek, you can check out the detail on why he created this seasonal WordPress saving. From what I observed it seem like the WPAdvent's offer is quite attractive , example Elemental Theme was selling with 80% discount yesterday ( yes I manage to get this ) and today the Advanced Newspaper is selling for just $9.90 only.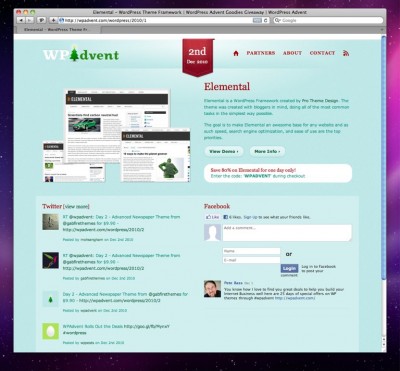 One of the tips that I can give is checking on the partner's page to make sure that your favourite WordPress theme maker is inside, if they are I guess it will be a good chance for you to grab a wonderful theme from them with promotional price.