Where is my Vector Designer License?
I blog about buying the mac software bundle – macheist before, recently i try to install each of the application and find out it seem like i don't get the license file for the final unlocked application – Vector Designer.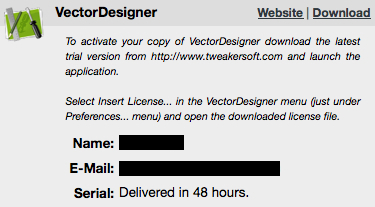 this is what been show in my bundle receipt , since 4 month ago .. so i try to email the support, but no respond, maybe i send the wrong email address after 24 hour seem like still no respond, i start digging out in the macheist forum.
Solution found ! just visit tweakersoft macheist license lookup page , input the email that you use to buy the macheist bundle, da da da , the license will be send to your email as a attachment.