Netvibes , my personal dashboard
I been using netvibes as my startup page since they launch , it should be the most frequent open page on my browser, other then my browser homepage which is a blank page by default. After all the social media and social dashboard buzz, i tweak some of my netvibes setting this morning, make it a both productivty and social dashboard.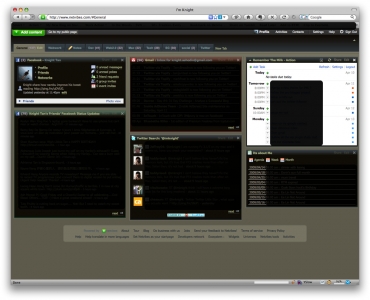 I have masked some of the important information, so these are the module/feed on my first page.
Facebook Widget – display some of my facebook info , i can see most of my facebook related info here, include how many friend requests are pending, how many message in my inbox and how many event invite i have.
Facebook Status Feed – following my friend status message
Gmail Module – display my latest email , currently flood with all kind of twitter follower email.
Twitter Search Module – dispaly my mentions
Remember The Milk Module – display all my task and todo list
iCal Module – display my calendar event.
Do you have a dashboard ? what do you have on your dashboard ?