Resolve my dropbox issue
I join the party quite late , i just download and try it last night, after seeing lots of positive review on Dropbox. I recall i saw this name before , so i search through my gmail and it seem like i got the beta invite for dropbox last year, but in the end i didn't give it a try until now.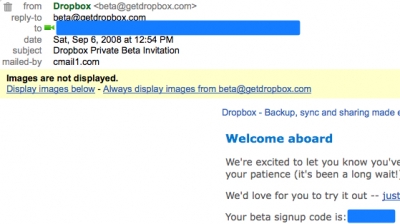 So how i plan for using this ? recently i have found my favourite mind map applicaiton , but it is a desktop version of mind map application, that's why i plan to use dropbox to sync the mindmap,in this way i can view/edit the same set of mindmap every place. For syncing my idea folder to my dropbox folder ( only files that inside dropbox folder will sync) , i have found Sync Files and Folders Outside Your My Dropbox Folder , follow the instruction i have key in
ln -s Documents/ideas Dropbox/ideas
the folder does show in dropbox folder but it seem like the folder didn't create properly. It keep sync and remove and this are showing my log.

after trying and re-read the lifehacker post again, finally i resolve this by
ln -s ~/Documents/ideas ~/Dropbox/ideas
you need to define the full path of the folder, in order to make it work and now the folder syncing my mindmap properly and i m able to edit it every where ( as long as my netbook and connection is available ).If you haven't sign up a dropbox account, i suggest you to do it now, it seem like got lots of feature and lots of way to play it, maybe i should write a review soon.