Its all about Ning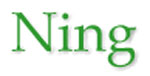 I been waiting to try on Ning for sometime but due to some reason, i never actually have time to play with it althought i get the developer account .. until last week, finally i m prepare to give it a try , i type the url and prepare to start , but it seem like the whole site is on heavy load .. hhhmmmm thats was the reason stop me for starting last week.
after that techcrunch start the Ning – RIP ? which point out some of the problem that Ning currently having, but this been strike back by nothing like a trashing to get day started , the post actually answer most of the problem that been noted .. and this morning i receive newsletter from Ning , Guess What ? quite a number of new feature added ( which some of the new feature fix the problem that mention at techcrunch ), i wonder is what techcrunch did force ning to release their secret weapon earlier ?
anyway currently the main site of ning seem like inaccessible, i can't wait to give it a try ..