Is Technorati still ok?
Am i the only one keep facing problem on using technorati site ?
first i want to delete my claim blog, which is still using my old domain , i keep trying but keep getting error, so i send a support ticket, there are no reply after 1 week, i send another support ticket, still there are no one reply.
So i try my luck tonight, woo hoo ! finally i can delete my claim blog, but there are no option for me to delete my account( because there are no way to change my user name ) and for sure i won't want to wait for another 1 week for reply , so i try to register a new account.
this time i observe carefully what's wrong with technorati, it seem like it keep log user out, thats why when you on some link, it assume you are not user and redirect you to the home page. Wah ! i even retry 5 time to just to claim my dev blog.
anyway finally i claimed my both blog and thinking to change my avatar , error page again and i m give up, this seem like not just happen today, but this really make me think, is technorati dieing soon ? it seem like seldom got people blog about it recently also.
let's hope it won't be the next one walk into deadpool.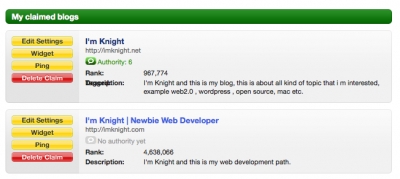 17/09/2008 – this is interesting, i just saw mashable's post Technorati: How the Mighty Have Fallen , is Technorati really not longer important ?