Rockmelt – the new social browser
I guess the biggest news this morning is about the early access of the new social browser – Rockmelt , if you have no idea who are the people behind this , Rockmelt is backed by the Netscape founder.
Rockmelt is build on top of Chromium , the open source version of Google Chrome, if Goole Chrome is your default browser and you are pretty much into Facebook, Rockmelt is for you. Rockmelt showing your friends list from Facebook on the left and social news on your right which include twitter and any rss feed that you add. On top of the navigation bar , you can update your status easily by clicking on your Facebook avatar or you can just share your current visit url by the share button, too bad the Facebook Like doesn't included for this release , maybe combine the star button with like button will be a good idea ?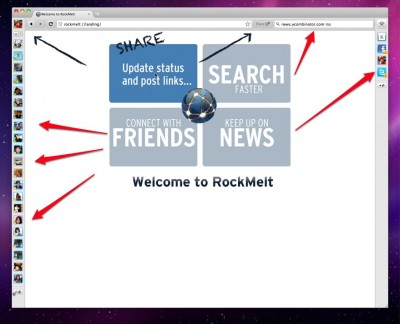 If you still remember there is another "social browser" in the market called Flock, I understand that Flock latest beta is using Chromium too , moving away from the Firefox based, but it seem like it doesn't really getting much attention, what happen when the new social browser meet the old one ?
One of interesting thing is to get early access of Rockmelt , you need to sign up with your Facebook Account, according some user on Twitter , it seem like it will decided by your social influence to get your early access ?
Anyway thanks for @Cheeaun invite me for the early access, every user will have 3 invites to send and for sure you will invite your Facebook friends only, I guess this might be a new way to get beta invites in future ?