Remember The Milk for iPad
I been using Remember The Milk (RTM) since beta and bought their pro account since 2008 , some time I might just lazy and stop keep track or update my task for a few day , but after the break , I will be back to organize with RTM again. Especially after I become a full-time freelancer , RTM is helping me to keep up with all tasks and remind me when the due date is near.
After one year plus of waiting and iPad has release version 2 already , finally Remember The Milk release their RTM for iPad today. It seem like not just a port from the iPhone version, there are lots of enhancement and fully utilized iPad features.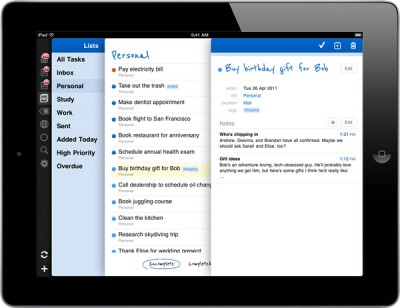 Remember The Milk for iPad is now available on iTunes store , it allow both free and pro account to use it , although free account can only do manual sync every 24 hours and without the notification feature, but the rest of features is remain the same as the pro account, you can give it a try before you decide for the yearly payment of USD$25 pro account.