Multiple Google calendar offline sync
I would like to aplogize that i giving wrong info on Google Calendar Offline Sync is just for one , this morning i saw this post from a taiwan blogger and finally i realiaze that i m wrong, it's because i never setup the calendar properly, which cause only the default calendar is show.
So how to enable multile google calendar sync ? just swtich to the manage calendar page and select offline, you will see all the calendar in the listing, just check which calendar you want it to be offline sync.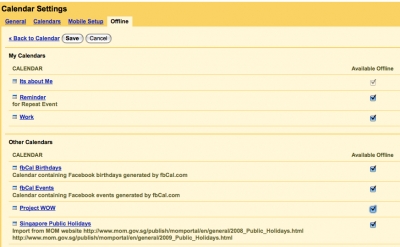 after done the setting, just click on sync to make it sync again and all your selected calendar will be show in offline mode.