Webbynode – another vps hosting for developer
I m a big fan of vps , going through my hosting history , i have try/use/tested quite a number of vps hosting provider, webbynode is the latest vps provider that i just try out yesterday.I have the webbynode beta account since december last year, but i didn't manage to spend some time on it, until i receive their newsletter which mention they going to live, start taking order from beta user and beta user that place order will have 15% off in less then 48 24 hour.
I try to activate my beta account, thanks that they didn't remove inactivate user,my beta activation is still working. The interface give me a very good first impression, it is clean, simple and straigh foward. Their slogan is Cloud Computing for Developer , which is very clear who they are aiming for. I can't really comment on the hardware/infrastructure part , since i m not really good on these, hopefully hostingfu will write something on these.
From a user/developer view webbynode is ideal for develoepr like me, i doing web development but not really good in linux server admin, they have a feature call ReadyStacks which allow the user setup the vps with GUI.Let's say now i have a php project, i just using the interface create a LAMP stack, the stack will up and running within 5~10 min, currently there are ReadyStacks for LAMP, Django and Rails. Browsing through the forum , there are some interesting combination of stack has been discuss.
Choose Your Stack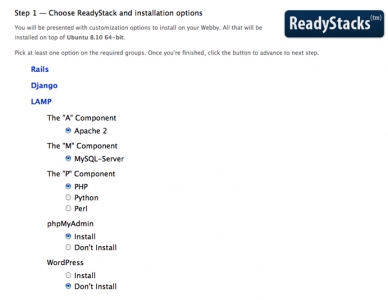 Choose the PHP Module that you need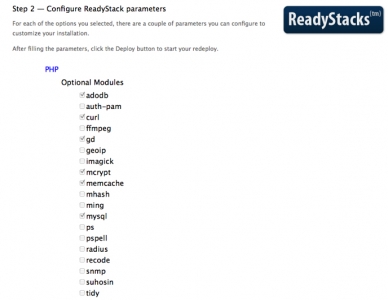 Your Stack is in progress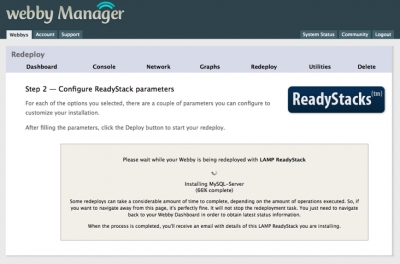 The concept is quite similar to webfaction, is just like a vps hosting of webfaction.If you want a beta account or want to become Webbynode VIP , just tweet the webbynode team @webbynode and request it, i sure the people @ webbynode won't mind to give you a beta account, but you only have less then 24 hour to decide.