Lifestream Tools
I been thinking of trying some tool which can actually aggregate all my virtual activity for sometime, until recently i read kevin's blog about lifestream , i decided i want to start one too.
Tumblr – this microblogging tool is the first one that pop in my mind, i remember i saw the feature to import other web service as blog post, after playing around with it for a while , i find out that it seem like slower to grab the content from others compare to others, but it got a lot of outstanding feature, example you can point it to your own domain, theme is allow to customize and it can work as a blog.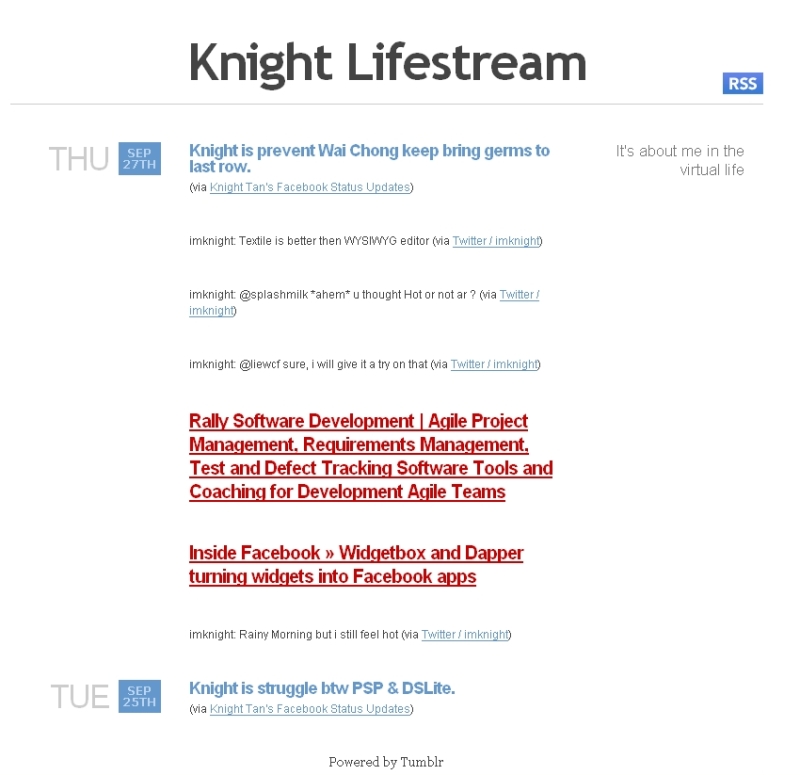 Jaiku – Kevin himself is planning to use this for his lifestream, so this should good. Compare to twitter , Jaiku is one of my favourite when it release, too bad most of the people that i follow is using twitter, i can only move over to twitter. So far Jaiku almost immediately fetch all the content after i add in the web service, i like the themes too, although customization on theme is very minimal. One of the strange thing ( bug ? ) that happen is once it fetch all the content, because it will group the content by source and show one content each source, it actually show my oldest content on top in stead of my latest content.
Profilatic – this should be one of the best lifestream tool because the blogger of Lifestream blog is using it. It display all the content in a very organize way, in stead of showing just one content from each source like jaiku, it display every piece of content. The are some interesting badge that you can put on your blog too, example one of the badge display what service you are using and click on it will link to the related service profile. One last thing is it allow you to see all your friend mashup and send you daily digest of your friend's mashup.
one last tools that i would like to mention is facebook mini-feed, it almost record down all your activity in facebook, but of course the related service must build on facebook platform , in order to display on mini-feed.