Yahoo meme is the new tumblr
Not long ago , Yahoo is launching a secret weapon call "Yahoo meme" that targeting the micro blogging/statusphere , i believe this is more aimining on tumblr style of service, in stead of status base service like twitter. I manage to get the invite and beta testing the service, just want to share some of my view.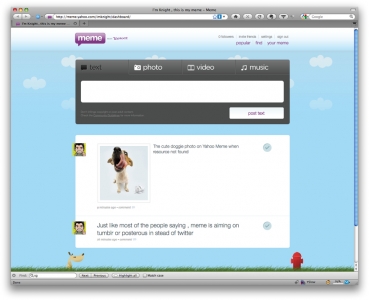 As you can see the dashboard interface, you are allow to post 4 type of media , there are follow feature for social purpose and repost feature for reblogging, one of the important feature that tumblr is missing will be the comment feature. Yahoo meme weakness will be the permalink of post, currently the url strucuture is not really SEO friendly. There are no option for you to customize your meme currently, but there are some very clean looking theme available for you to change.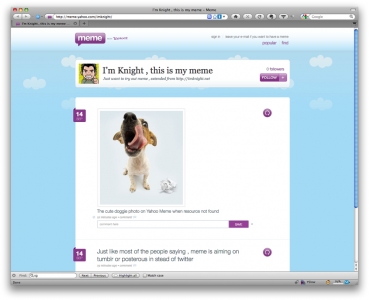 That's all for my short review, you can visit my yahoo meme or leave your comment here to request a meme invite , i still have 6 more invite to send.