Yahoo, is preferred content or language?
This morning quite a few famous web2.0 blog mention about the new Yahoo Calendar , as usual i m surfing around to see how to get into this new calendar to play around with it , my yahoo calendar are still showing the the classic mode, finally i found the new calendar landing page from downloadsquad.
I happily click on the start button and it show me a cute page with not so cute content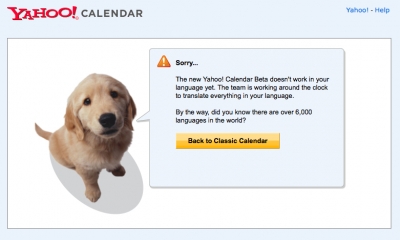 what does it mean "doesn't work in my language" ? i don't recall there is a setting for language in account, so i drill into my account page and change the first field which i think causing this problem – Preferred Content, i change it from Yahoo! Singapore to Yahoo! US

then visit the landing page again , yeah this time no more silly cute doggie picture. But it inform me that i will only get into the waiting list. Argh in the end i still have to wait.