Blocked by Delicious
I was cleaning my del.icio.us account ( althought now calling delicious but i still like del.icio.us ) , because my google reader, later loop and instatapaper don't have outstanding link which i haven't go through and i m lack of thing to write it here, i don't want to just recommend another plugin and let it become a wordpress plugin blog, so i diging my del.icio.us link and check on those like i been tag 2read,2try,2check.
after i did some clean up, which visit about 20+ link and remove about 30+ link, suddenly i getting "You been blocked" message. Geez, i didn't use any 3rd party tools, i m using the web base apps itself yet i m getting blocked.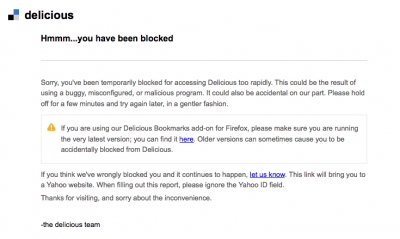 hmmm it's been 10 min and it still haven't unblock, geez if like this please give me a mass edit tools which can let me handle my links easily.