Spam from QMax
It happen that few day ago , i m going through my email which been label as ADV , my gmail filter will actually filter out those email start with [ADV] on email subject and putting this ADV label for me, i found one new ADV email from my usual ADV email that coming from local bank, forum etc.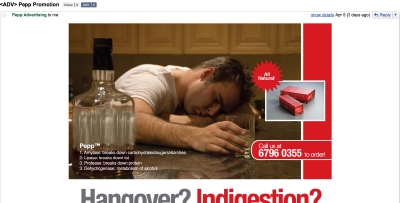 most of the time i might just flag this as a spam and throw it to my trash folder, but i decide to play nice and click on the unsubscribe link , the process go pefectly fine and guess what i getting ?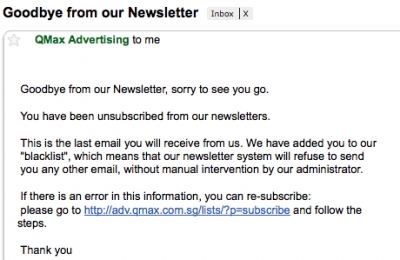 an unsubscribe email from QMax , eh how this QMax getting my email ? Oh the one doing wireless SG, ya i did give them my email when i try to sign up a wireless SG account, but are they allow to spam me that something not related to their service ?? Did i blindly agreed to receive this kind of spam when i sign up ? i fire up my browser and check on Qmax's web site privacy policy. This is what i found.
Limiting Use, Disclosure and Retention

We will not disclose, share, transfer, sell or rent personally identifiable information to any 3rd party. We do not send unsolicited marketing email to our customers. Customers will occasionally receive email on special promotions we hold. Out of respect for the privacy of our users, users may opt-out of receiving these communications by replying to unsubscribe in the subject line in the email.
so the email i receive is not consider marketing ? in what way does Pepp related to wireless service ? let me know if this not consider spam.