Remember The Milk , improve your support please
I m a long time remember the milk's supporter , i subscribe as RTM Pro for a year until May 2009 and stop for a few month to try up different GTD solutions, but it seem like no other solutions are better than rtm in term of syncing with mobile device, therefor i m back as RTM Pro during last year Dec promo.
I receive my account expiry soon notification some time ago , which is impossible since my subscription just past 3 month . I send in my first official support ticket and the respond was really disappointed.
I filed my support ticket 13 days ago.
3 days later they reply asking for my paypal transaction id
I find it strange and i wonder why not they just check my order history ? but i still reply the email with my paypal transaction id.
They came back again re-confirmation of my paypal email.
Due to my work load, I miss out the email and reply it 2 day later
They went missing for few day
I question it on my twitter and the forum
No one from RTM give me a reply but a support email incoming
Problem resolved.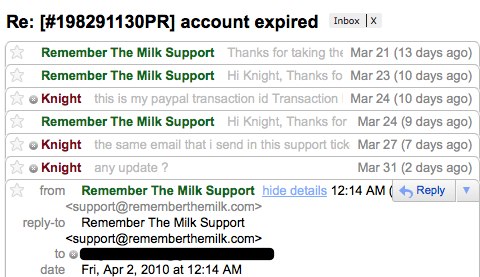 For sure I m not happy with their support level, there are no reply on my twitter status and my thread in forum. If this is how they support users , i really need to consider an alternative services or application to replace it. Seriously GTD market is quite competitive , RTM you better improve your support before you start losing your users.