Step by step to send your tweets to evernote
Evernote now allow you to send your tweets directly to your evernote account, this post assume that you have both twitter and evernote account.
Step 1 – Visit Evernote special twitter account for this service @myEN and follow it.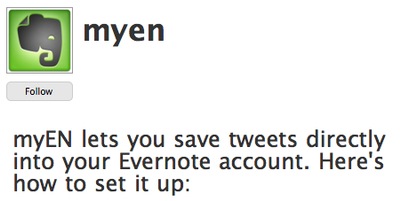 Step 2 – Wait for the direct message from @myEN which consisit a link.

Step 3 – click on the link and login your evernote account, it will redirect you to a page and ask you link both evernote and twitter account.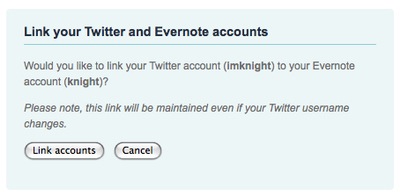 Step 4 – after the links action is done, you can start send a direct message to @myEN or put @myEN at any part of your public message
Step 5 – once you send within a few min it will synced, you can find it on your web account, desktop client, iphone client. You can see on my evernote desktop client, it keep the source of the twitter message too.
that's how you send your tweets to evernote , i think it's pretty simple , if you prefer screencast version , you can watch it on youtube.