Reorganize my digital life
I been planning to do this for quite some time , but i always failure at the planning stage, this is the first time i actually able to note down the whole process flow after so many weeks.
My current problem is
too many information daily – include feeds and twitter.
using too many tools – i never split the job in between my tools, each tool is holding up certain part of information.
didn't categorize information – all sort link dump together, i should have GTD concept on these links
Tools that i use
delicious , social bookmark
browser bookmark with xmarks sync cross platform
evernote
posterous
instapaper
i m using lucidchart to draw out my new digital flow and i think lucidchart is one of the main reason i can complete this new flow, i going to blog about this wonderful service soon.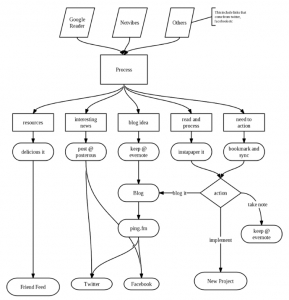 the overall idea is consolidate information and categorize it , each category is handle by one tool , avoid information overload and duplication.