Goodbye Palm, Hello Dopod
I think i never mention about this, i sold my Treo 680 for quite some time already, i think i slightly blog about this during xmas and the best part is before i want to sell the phone , it drops and scratched !
at the end i sold my set with low low price , about $100 different with the second hand market price, a good lesson to me … after i sold the phone, i been using my bro treo 650 while searching a new phone that i like, quite a few model that pop in my eyes like Nokia N80, E61 , Treo 750v, Eten 500 and dopod D810, when i about to get Dopod D810 then i find out that the keyboard is really useful so at the end i get a second hand ( 1 month ++ old set ) dopod 838 pro.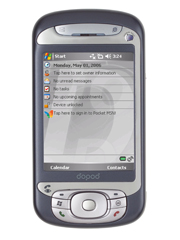 argh ! for the first time i move into windows environment willingly ………….