Improve your customer service please.
I bought the macheist bundle during Jan, but until March then i getting my iMac with leopard and until May i start install some of the macheist application, when i start the install process , i find out that i haven't get the vector designer serial number, so i just send the support a email to checking on this and i getting the reply today.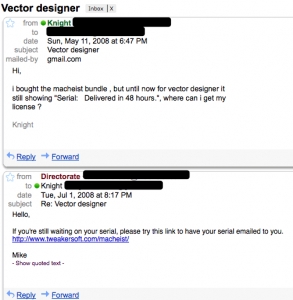 yeah, i getting a reply after nearly 2 month, i already found the answer in the forum ,but don't you think the support really need to be improve ? I have similar case on my flickr account some time ago, but it took flickr reply me after 8 day, i won't say the time it took it's reasonable , but 1 month+ is really unacceptable.
Yeah someone told me on flickr forum, a $25 service , what you expect ? maybe i come from service industry before but i would tell you , today even is just a $2 service , you should give a reasonable support else you might losing more customer on this.