5 reasons why i bought the envato birthday bundle
I have just bought the envato birthday bundle and this is my first purchase on themeforest. If you have no idea what is this about, envato ( the company behind of some of the famous website like nettuts and freelanceswitch ) is celebrate their 3rd birthday and these are the 5 reasons of why am i buying this bundle.
Nettuts is one of my favourite web devevelopment site , this is to show my appreciation.
I have $10 credit in my account, which i get it when themeforest launch ( i think some launch event ? ), i believe is time to use it.
The bundle is worth $300 , but you can get it by just $20 ( and i get it for just $10 because of point 2).
The bundle actually include Convergence , a pretty nice wordpress theme, by the theme itself is worth more then $20 already.
Understand we can convert themes in the bundle into wordpress theme for self use, another great reason for buying this bundle.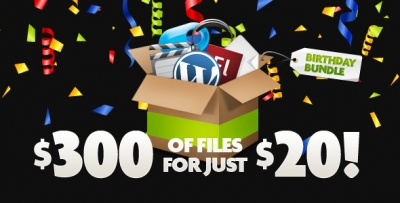 Happy Birthday Envato , there are 23 hours more to grab this bundle, if you think any of my reasons valid for you, grab it now.