Tell-A-Friend copy AddThis plugin ?
Everything has a begining, it start from i blog about Tell-A-Friend widget, then because of researching the widget, i blog about the rest of widget that having similar feature and i did some mistake and mention
I just wonder any one that actually put more then 2 ? the common combination is Tell-A-Friend with AddThis , the widget of Tell-A-Friend even alllow you to insert your AddThis Username to get both work with one plugin.
I never go through the code properly and i thought it function like that, so i register an AddThis account and try to get a username to put in the Tell a Friend plugin so that i can get both working , but after i put my AddThis account username, AddThis widget didn't show.
Suddenly an idea pop up , Oh MY GOD ! don't tell me Tell-A-Friend copy AddThis plugin but never change the code properly ? so i compare both plugin, the structure is the same just the class name is different and the funny part is in Tell-A-Friend plugin , it consist of addthis_username at first, later when the function calling , it become pramati_username.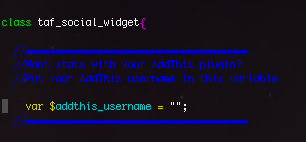 p/s do let me know if both company are related, then it might just a careless mistake of the developer.