Set your goal !
Its on my bookmark for an week , but after tonight testing, i m thinking to write something about it.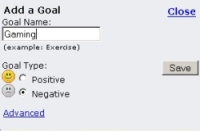 Joe Goals its a web application that allow you to set goals, either positive or negative, which will later reflected in the goal setting page.
so after you set your goal, by going a small calendar ( weekly ) , you can add a check on the day that you reach your goal, add 2 check if you extra-productive. i believe this service is more suitable for long term goal ? so that you can track day by day , example on diet, you can add check mark for the day that you stop yourself for buying a soft drink ..
if you look through the about page, you will realiase Joe actually use quite a bit of open source for this project, thats something that impress me. anyway his wedding is coming soon , all the best to Joe