Why I like co-working place ?
I been hang around at this new co-working place – together workspace recently and really like it , I been wanted to try out co-working environment but there are not much not choice in Johor and most of the time when I in Singapore , I either meeting a client or need to move around, so not really suitable to sit in a co-working place.
Some may think if you can work comfortable at home why bother to work at co-working place ? You can have high-speed internet , air con , beverage at home too, why go to co-working place to waste money ?
These are 4 reasons why I like the co-working place.
1. People – as an independent freelancer which work at home, you don't really have much chance to meet and talk to people , co-working place normally have all kind of people , which you can expand your circle of friend and who know you might be able to meet potential customer.
2. Communication – Working from home lack of face to face communication, you can argue that chatting through social network , instant message is another kind of communication too , but I believe meeting face to face communication are still a better way to polish up your soft skill.
3. Less Distraction – Working at home some time you will just give yourself all kind of excuse to take a break, but at the co-working place when seeing other are working, you will constantly remind yourself to work harder.
4. Focus – Since I spend limited time at co-working place, I always set a target and make sure I meet the target before I leave the co-working place, it does boost my focus and finish my work within shorter time compare to work at home.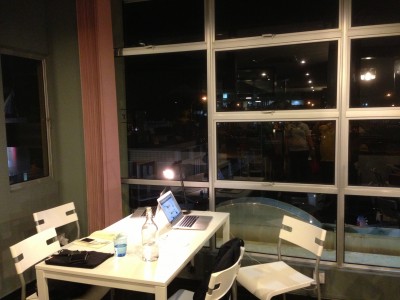 I been quite slack and can't really focus on my work recently , after 3 year of freelancing and working from home, I wonder why now ? but I m glad that I can try a different way to tune myself and so far this has been work quite well.